LEXIK'ALL
manages your
multilingual
projects
from A to Z.
TRANSLATION
LEXIK'ALL provides translation services in more than 25 languages in a complete range of fields, including technology, marketing, communication, tourism, sustainable development, legal and finance. Our professional translators are carefully selectedaccording to their abilities and field of expertise. Translating into their mother tongue, they adapt each text to the target market.
LEXIK'ALL creates a customized environment for each of its clients, allowing them to build up and develop their own linguistic database containing translation memories, style guides, glossaries, and more.
PROOFREADING AND POST-EDITING
LEXIK'ALL can provide a proofreading service for classic translations and a post-editing service for machine translations.
PAGE LAYOUT AND DTP
LEXIK'ALL benefits from an experienced team of graphic designers capable of working in the most complex Asian and European languages to produce business brochures, tourist maps, leaflets, articles, and a range of other media.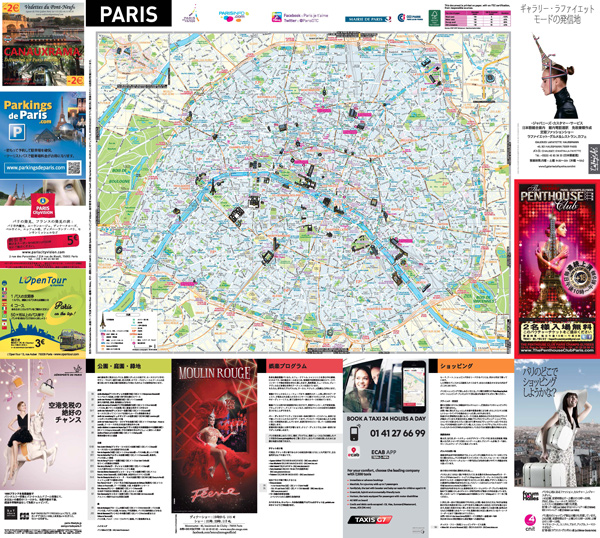 Paris Plan OTCP
Objectif/défi du projet
Mise à jour, PAO et suivi de la production du PARIS PLAN en 10 langues (français, anglais, espagnol, italien, portugais, coréen, chinois, japonais, russe, allemand).
Solution mise en place par LEXIK'ALL
Mobilisation du réseau de LEXIK'ALL avec la mise en place de traducteurs professionnels et de graphistes en 10 langues. Traduction Mise à jour des textes du plan en fonction des nouveautés et adaptation des textes au public cible.
PAO >

Gestion des équipes de graphistes capables de comprendre et de travailler dans les langues asiatiques, et de gérer des fichiers Indesign et Illustrator en russe, coréen, japonais et chinois.

SUIVI DE PRODUCTION >

assurer la bonne coordination des différents intervenants = cartographe, traducteurs, graphistes, régie publicitaire, imprimeur. Préparation et transmission des fichiers HD à l'imprimeur.

OUTILS >

Indesign, Illustrator, Trados
Résultat
Réalisation du Paris Plan 2014 dans le respect des délais d'impression et de mise en ligne souhaités.
SOFTWARE AND TOOLS >
TRADOS, MEMOQ, INDESIGN, ILLUSTRATOR, PHOTOSHOP, and more.